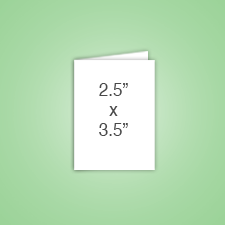 Mini Folded Cards
Upload your unique designs onto our brand new Cute Little Folded Cards!
These cards are printed on 130# Ultra.
Art Size: 5.125" x 3.6875"
Trimmed Size: 4.875" x 3.4375"
Folded Size: 2.4375" x 3.4375"
Artwork outside the dotted line will be cut off.
This card size requires a #17 Kraft Envelope.
If you're looking for printing services for mini folded cards, here are some options to consider:
Local Printers: Contact local printing companies in your area and inquire about their services for mini folded cards. Many print shops have the capability to print and fold cards of various sizes, including mini folded cards. Local printers often provide personalized service and the opportunity to discuss your specific requirements in person.

Online Printing Companies: Explore online printing companies that offer printing services for mini folded cards. Online printers usually have user-friendly websites where you can upload your design, select the card specifications, and place an order. Some popular online printing platforms include StationeryHQ, PrintPlace, Overnight Prints, and Printi.

Specialty Stationery Printers: Look for printers specializing in stationery or custom card printing. These companies often have experience with unique card formats and finishes. They may offer a variety of mini folded card options, including different paper stocks, finishes, and folding styles. Research and contact specialty stationery printers to discuss their capabilities and pricing.

Wholesale Printing Services: Consider wholesale printing services that cater to businesses and bulk orders. Wholesale printers typically offer competitive pricing for larger quantities. They may have options for mini folded cards and can handle printing and folding in bulk. Trade printing services like Printful, Printify, or PrintPapa are worth exploring for wholesale printing.

Print-On-Demand Platforms: Utilize print-on-demand platforms that allow you to create and sell your mini folded cards. These platforms handle the printing, folding, and shipping of the cards on-demand as orders are placed. Examples of print-on-demand services include Zazzle, Printful, and Redbubble.
When selecting a printing service, consider factors such as print quality, paper options, turnaround time, pricing, and customer reviews. It's also beneficial to request samples or proofs to ensure the final product meets your expectations. Compare the offerings of different printing providers to find the one that best suits your needs in terms of both quality and affordability.
---
More from this collection