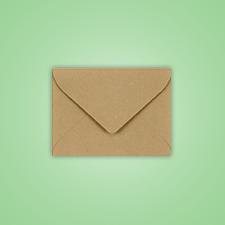 #17 Paper Bag Kraft (Euro Flap)
Try out our brand new #17 Paper Bag Kraft Envelopes!
These envelopes are only available blank for the time being.
A #17 paper bag Kraft with a Euro flap refers to a specific type of envelope made from Kraft paper. The term "Euro flap" refers to the style of the envelope flap that has a distinctive pointed or triangular shape.
Kraft paper is a durable and versatile type of paper made from unbleached wood pulp. It has a natural brown color and a rough texture, giving it a rustic and eco-friendly look. Kraft paper is often used for packaging, crafting, and creating environmentally friendly products.
The #17 size typically refers to a specific envelope size that can vary depending on the manufacturer. It's important to check with your specific supplier to confirm the exact dimensions of the #17 paper bag Kraft envelope.
The Euro flap style of the envelope is known for its elegant and contemporary appearance. The pointed flap folds down and tucks into the back of the envelope, providing a secure closure while adding a unique design element.
Paper bag Kraft envelopes with Euro flaps are commonly used for various purposes, including wedding invitations, greeting cards, special event announcements, or high-end marketing materials. They offer a distinctive and natural aesthetic that can enhance the overall presentation of your content.
When using this type of envelope, it's important to consider the design and printing techniques that will complement the Kraft paper's texture and color. Embossing, debossing, or foil stamping can be effective ways to add a touch of sophistication and customization.
As with any printing or packaging materials, it's recommended to work with a professional printing or stationery supplier to ensure you get the desired size, style, and quality for your specific project.
---
More from this collection