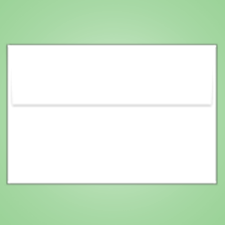 Blank A9 Envelope (8.75" x 5.75")
Art Size: 8.75 x 5.75
Flap Area: 8.75 x 2
If you are looking for blank A9 envelopes with dimensions of 8.75" x 5.75", you can find them at various stationery suppliers. Here are some options to consider:
Online stationery suppliers: Websites like Amazon, Staples, and Office Depot offer a wide range of stationery products, including blank A9 envelopes. You can search for "A9 envelopes" on these platforms and filter the results by size to find options with the dimensions you need. Make sure to check the product descriptions to confirm that they are blank envelopes.

Local office supply stores: Visit local office supply stores or stationery stores in your area. They often carry a variety of envelope sizes, including A9. Inquire with the store staff or check their product displays to find blank A9 envelopes with the dimensions you require.

Specialty stationery stores: Look for specialty stationery stores or paper shops that focus on providing a wide range of envelope options. These stores may have a larger selection of envelope sizes and materials, including blank A9 envelopes. They can provide guidance on choosing the right envelopes for your needs.
When purchasing blank A9 envelopes, consider factors such as envelope quality, color options, seal type (such as gummed or self-sealing), and the quantity needed. It's also important to ensure that the dimensions of the envelopes match your requirements (8.75" x 5.75" for A9).
---
More from this collection