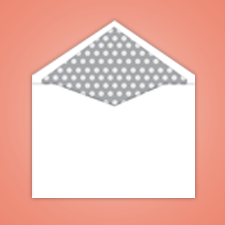 A7 Lined Envelope (7" x 7.5")
A7 Lined Envelope
Upload your unique design on this A7 envelope liner. Liners are printed and assembled into 70# A7 baronial envelopes.
Art Size: 7.25 x 7.75
Trimmed Size: 7 x 7.5
Paper Stock: FSC Certified 70# Opaque Text
For StationeryHQ.com you will need to upload a high res PDF that is 
7.25
 x 
7.75
 for this product. If you can create a high res PDF with bleed, then you qualify for wholesale pricing on StationeryHQ. Make sure you check the wholesale box when you create your account.
If you are looking for wholesale A7 lined envelopes with dimensions of 7" x 7.5", here are a few options to consider:
Online stationery suppliers: Many online platforms specialize in providing wholesale stationery products, including lined envelopes. Websites like Alibaba, DHgate, and Made-in-China offer a wide range of options for wholesale envelopes. You can search for "wholesale A7 lined envelopes" on these platforms and filter the results by size to find options with the dimensions you need. Compare prices, quantities, and customization capabilities offered by different suppliers.

Wholesale stationery distributors: Look for wholesale stationery distributors that cater to businesses and retailers. These distributors may offer bulk orders of A7 lined envelopes at discounted prices. Contact them directly or check their websites for product catalogs and pricing information. Some examples of wholesale stationery distributors include Paper Source, Envelopes.com, and ClearBags.

Local print shops or stationery stores: Visit local print shops or stationery stores in your area and inquire about their wholesale options for A7 lined envelopes. Some suppliers may have the capability to source or produce lined envelopes in bulk quantities. Discuss your requirements, including the specific size, lining options, and any customization needs you may have.
When sourcing wholesale A7 lined envelopes, consider factors such as the quality of the envelope material, lining material, print quality, pricing, and turnaround time. It's also important to verify the reputation and reliability of the supplier through reviews, ratings, and customer testimonials to ensure a satisfactory experience.
---
More from this collection