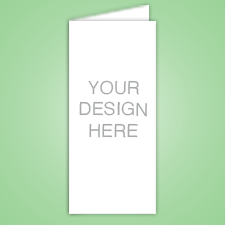 4.25" x 11" Foldover Wedding Program
Upload your unique design onto our 4.25 x 11 Foldover Wedding Programs! Perfect for a wide array of events.
To order 4.25" x 11" foldover wedding programs, you can follow these steps:
Design your wedding program: Use graphic design software or online design tools to create your desired wedding program layout. Make sure to set the dimensions to 4.25" x 11" to match the foldover size.

Choose a printing service or supplier: Research and identify printing services or suppliers that offer wedding program printing. Look for reputable companies with positive reviews and a track record of delivering high-quality products.

Check their product options: Visit the website or contact the printing service to check if they offer 4.25" x 11" foldover wedding programs. Review their available paper stocks, finishes, and any customization options they provide.

Prepare your design file: Ensure your wedding program design is ready for printing. Follow the printing service's specifications, such as the required file format (e.g., PDF) and resolution. Include all necessary content, such as the order of events, names, dates, and any other details you want to include.

Request a quote: Contact the printing service or use their online quoting system to request a quote for the quantity of wedding programs you need. Provide all relevant details, including paper type, finish, quantity, and any additional customization options.

Review the quote and place your order: Once you receive the quote, review the pricing and any associated costs (such as shipping or design fees). If you are satisfied, proceed to place your order by following the instructions provided by the printing service. Provide the necessary shipping information and make the required payment.

Proofing and production: The printing service will typically provide a digital proof of your wedding program for your review. Carefully check the proof for any errors or design issues. Once you approve the proof, the printing service will begin the production process.

Delivery: The printing service will produce and ship your foldover wedding programs according to their estimated turnaround time. Ensure that you provide accurate shipping information to receive your order on time.
Remember to communicate clearly with the printing service, provide any necessary instructions, and review the proofs thoroughly before giving final approval. This will help ensure that you receive high-quality wedding programs that meet your expectations.
For StationeryHQ.com you will need to upload a high res PDF that is 8.75 x 11.25. If you can create a high res PDF with bleed then you qualify for wholesale pricing on StationeryHQ. 
---
More from this collection